Skip to Main Content
It looks like you're using Internet Explorer 11 or older. This website works best with modern browsers such as the latest versions of Chrome, Firefox, Safari, and Edge. If you continue with this browser, you may see unexpected results.
Exploratorium Library

Founded in 2019, Exploratorium is an urban, hands-on public library in Charlotte, NC. The library is furnished with vibrant decor in bold colors and neon lights outline the welcome desk. Our patrons aged 0-18 not only feel welcome in our building but know that the Exploratorium is the place to be.
Come Join Us At The Library!
Using The Library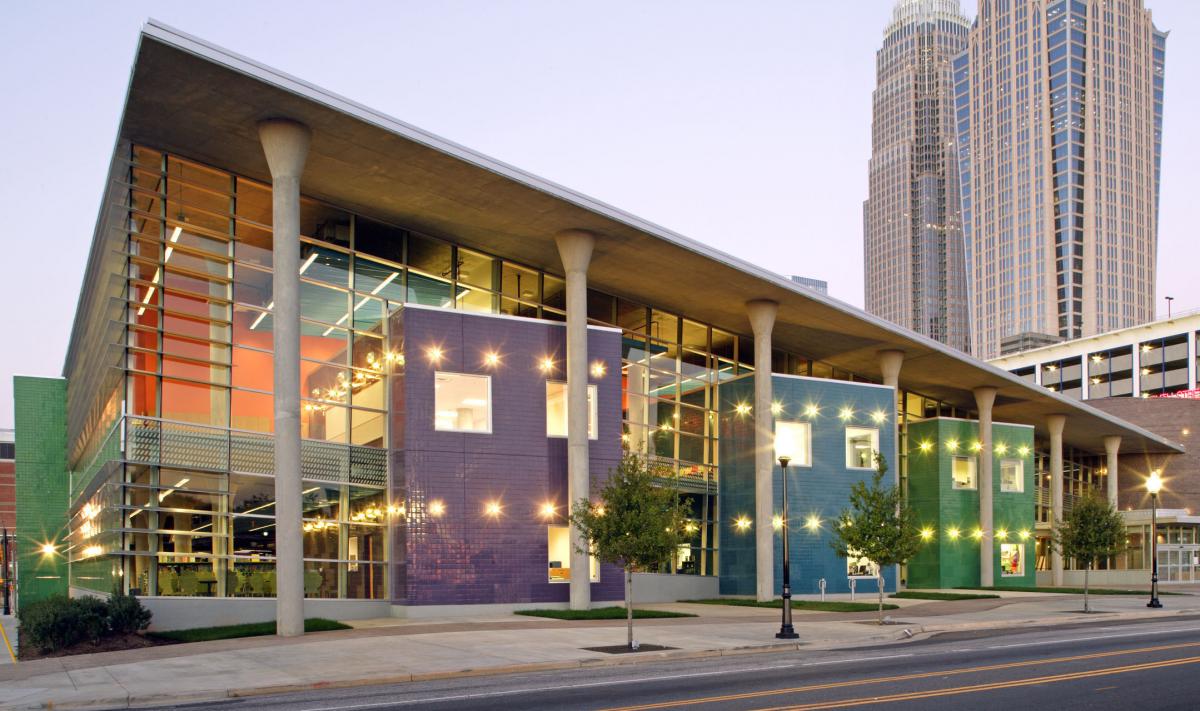 Come see us!
Monday - Thursday
9:00am - 8:00pm
Friday - Saturday
9:00am - 5:00pm​
Sunday
1:00pm - 5:00pm
555-555-5555
300 East Seventh Street
Charlotte, NC 28202
Our Community
Come Explore with Us!
At the Exploratorium, we serve children 0-18, and their parents, in the Charlotte- Mecklenburg area. This unique facility, visited by more than 300,000 people annually, blends traditional library services with a children's theatre. Charlotte, North Carolina is home to 200,384 youth from birth to 18 with 156,953 enrolled in preschool through high school. Students in the Charlotte-Mecklenburg school system are provided free library cards and 239,000 students have utilized their cardholder accounts. These demographics, combined with our diverse population, encouraged this one-of-a kind youth destination which includes:
The Spangler Library with resources for parents and children from birth through 5th grade.
The Teen Loft which provides programs and services for young adults ages 10-18.
The Children's Theatre offering classes and performances for all ages - preschoolers through high school.
What We Do
Our Mission: Improve and empower the community through free access to information and the world of creativity.
Our diverse collection reflects our users and promotes a lifelong love of reading and learning. Our young community members should be able to see themselves in our stacks and find fun and educational activities to engage with.
Our print collection includes

Our audiovisual collection includes

Our online resources include

Board books

Picture books

Easy chapter books

Fiction books

Non-fiction titles

Reference books

Books in braille

Magazines

Graphic novels and manga

Read-a-long books

Audiobooks

Music CDs

DVDs

Nonfiction DVDs

Databases

Electronic picture books

E-books
Utilize our computer labs to work on homework, attend a program in the theater, or create something new in the makerspace!
Come read, play, learn, and grow with us!
Location
We are located in the heart of downtown Charlotte, convenient to I-77 and I-85. Click the link below for detailed directions and information on where to park.
Directions & Parking Information