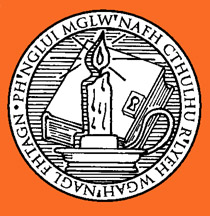 Welcome to the theological and religious studies resources guide at Miskatonic College's Orne Library. The Orne Library is a member of the American Theological Library Association (ATLA), the preeminent professional theological library association, which providing support of theological and religious studies libraries and librarians.
Our aim is to support Miskatonic's Bacheolor of Theology (B.Th.) students and Department of Theology faculty, as well as students, faculty, and staff for whom religion and theological literacy is a necessary resource or interest. It is of utmost interest to Library Director Henry Armitage, Theological Librarian Jimi Wilson, and our entire staff to meet the information needs of our Miskatonic College community. Can't find what you need here? Drop on by, call, text, email, or chat with us online. We're here to serve you!
Logo image is property of Muskatonic University Press / yankeeclassic.com: Copyright © 1997, 2002 Miskatonic University Press / yankeeclassic.com, all rights reserved.